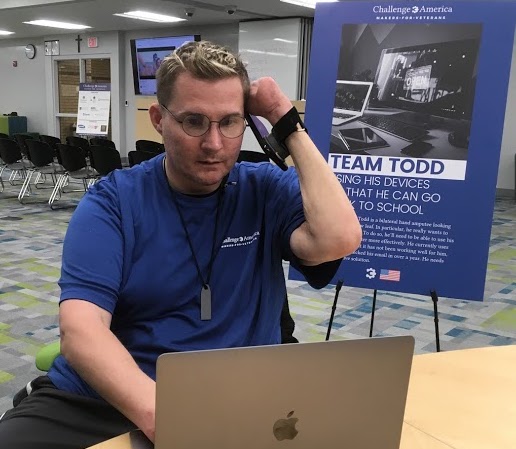 apply today to be a veteran participant in our next program!
Tell us what you need.
Take part in the solution.
Help other veterans like you.
what is CAMVETS?
Challenge America: Makers For Veterans (CAMVETS) is a 3-month program that's all about finding and actually making creative solutions to specific challenges that veterans are facing. We pair veteran participants (or Challenge Knowers) with a team of experts (or Solution Makers) who all come together for a series of events to create a solution that directly addresses the specific challenge of their veteran team member.
Our upcoming CAMVETS program will take place in Cleveland, Ohio in Fall 2019.
apply today!
If you meet these eligibility guidelines, we encourage you to apply for this exciting opportunity by filling out the application form* below. The Application Deadline is July 22, 2019. We will select up to ten veteran Challenge Knowers for the Fall 2019 program.
There is no cost to apply or participate in the program.
If selected, you will:
get to work with a team of experts working on a solution tailored to your specific need

meet people in your community from a multitude of disciplines and backgrounds

help to raise awareness and find solutions for countless other veterans facing similar challenges
*We encourage you to fill out the form with someone who knows you well (e.g. a spouse, caregiver, healthcare provider)