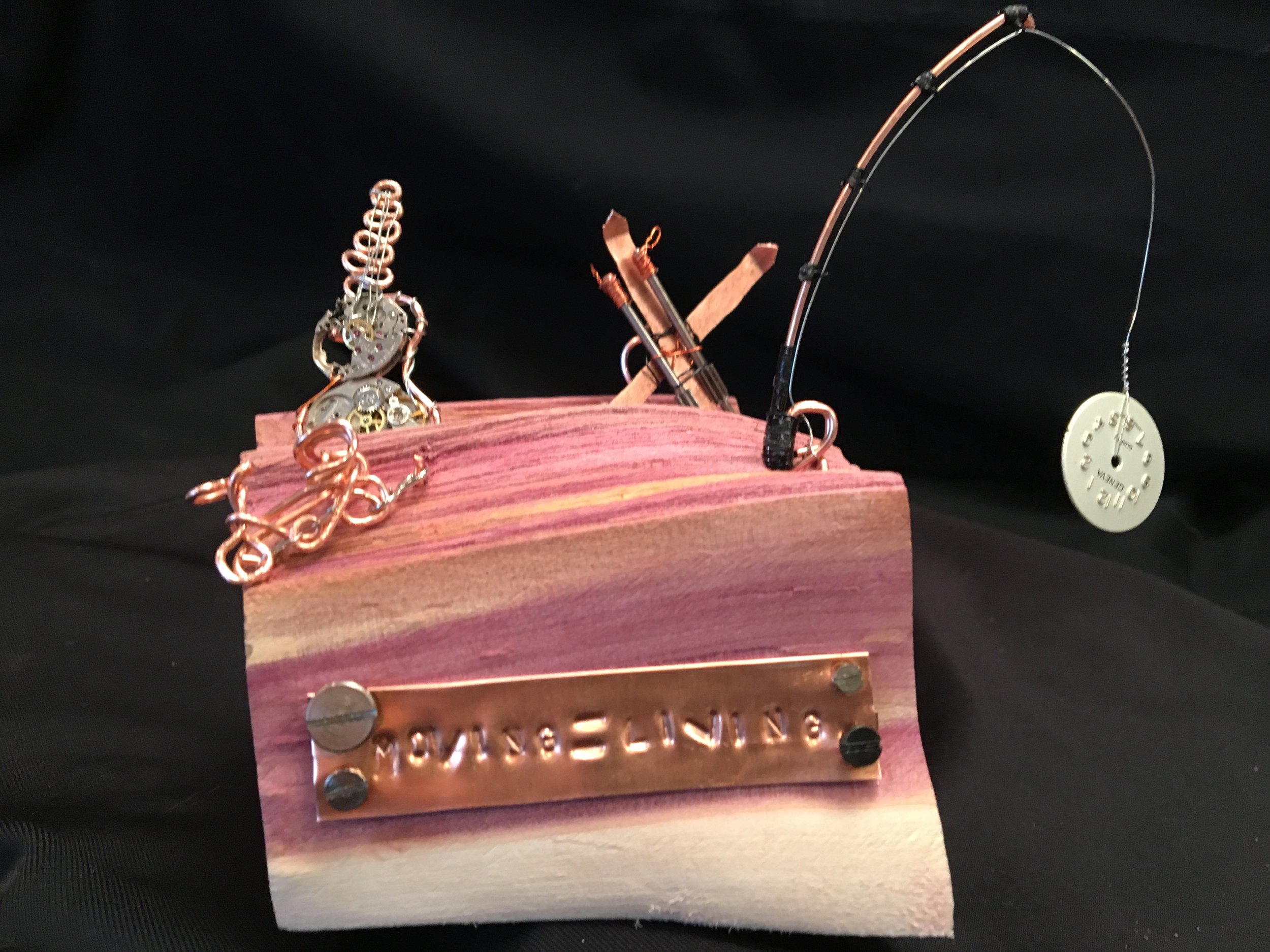 AnnMarie O'Malley
Self Medicated: This mixed media piece depicts the "medication" choices of the artist employed for self medication; music, skiing, fly fishing, and biking (with square wheels). Other people may choose to live by the mantra "it's 5 o'clock somewhere" to justify a beverage of choice. The artist chooses engaging actvities to promote healing, health, and wellness.
History
Training: None
Experience: Last two years
Achievements: 1st place metal sculpture, 2nd place mixed media, 2nd place combat experience Washington DC Veterans Affairs, 2017. Gallery exhibits in Utah and Maryland.
Coping through Art
My elementary/middle/high school art teacher (yes, I come from a town of 2,000 so we only had 1 art teacher for the 13years) told me it was unfortunate that everyone had to take art every year in our school because some people are just not "artists". Yes, you can say that my upbringing related to art was scarring...and perhaps that is why it art snuck up on me. Like the stigma of mental health care, I had been trained that art was not something I was good at...so voluntarily participating was something that I never agreed to do. Then two years ago, during one of my weekly medical appointments, one of my psychiatrists assigned me the task of signing up for something that required me to leave the house at least once a week. It didn't matter if I liked what I signed up for, but I had to participate in something weekly. Project Healing Waters Fly Fishing is what I selected because they met weekly and it meant only 1 group of people requiring interaction. For the first 3 months, I sat in the corner and spoke to no one. I went (and reported to my Dr weekly) that I attended...it wasn't until about the 4th month that one of the guys tricked me into participating. At about the 6 month point, I realized that the fly tying stand might be able to hold metal so I could make this thing that haunted my mind and I couldn't get it out of my head. It was driving me crazy, this bike with square wheels, stuck in my head, going no where, not moving with no real reason to exist. That was the hole I was in and if ART had not snuck up on me, I don't think I would be part of this incredible exhibit. You see, I was convinced that I was broken and not able to find the words that could describe to my Drs what I was feeling and thinking. I had no chance of surviving, until art provided me an avenue for others to help me. I will always be thankful to my Dr, PHW, and guy named Arno (it took me a year to learn his name, I'm not kidding) for providing me a safe place...to find art. Friends of mine helped me realize I was doing art (after I was already committed and infected with the Art "bug").

In my experience, medical conditions such as PTSD, TBIs, other mental illnesses are a dark, lonely, miserable place to live life without support, appropriate medical care, and a support network that helps individuals know they are not alone. Without support programs to help people "find" something that shines some light on their life, life remains miserable and other options (escape routes through addictions, suicide, etc) start to look appealing. Art has helped me express my feeling through metal work and engaging with others. Service members and veterans are not the only people who struggle with these types of injuries. Our communities are filled with people who have struggles that are equally challenging and initiatives that focus on engagement, wellness, and resilience in our communities have an opportunity to raise everyone's quality of life.