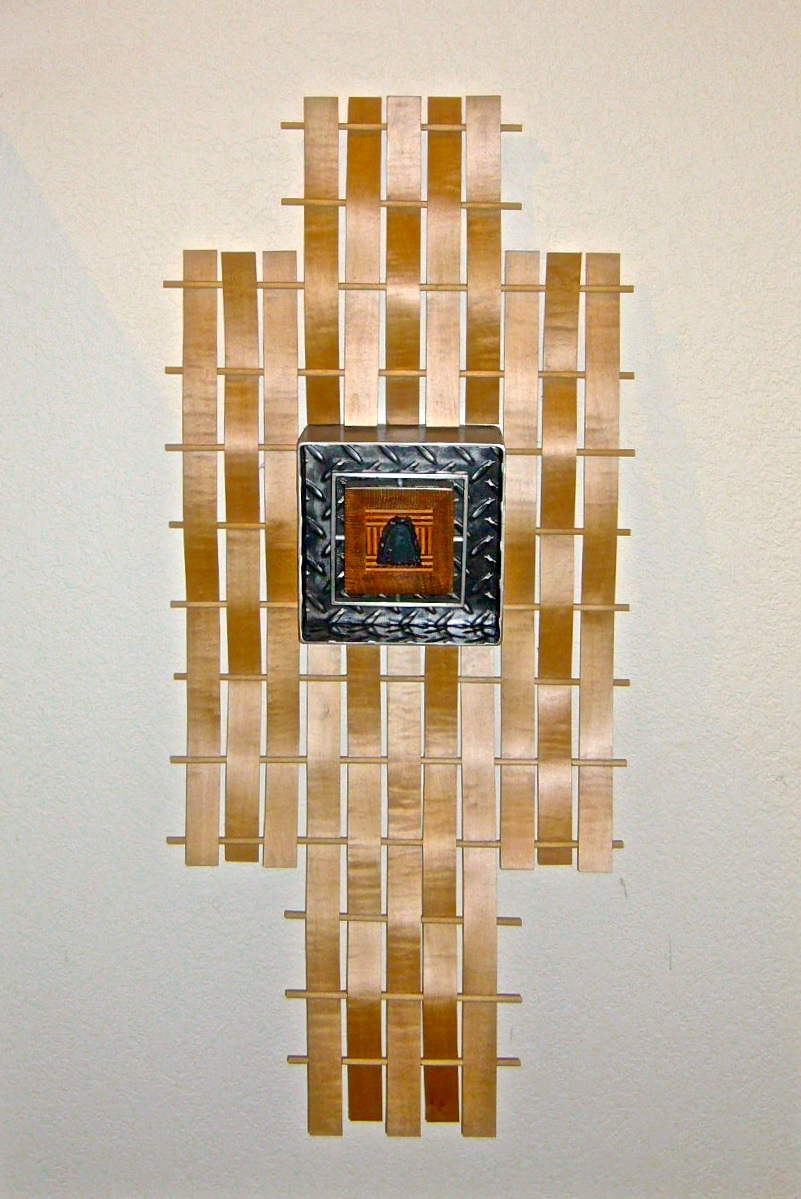 Don Stuber
My piece, the sculpture, "Tempered", inspired by a dream; is a totem, a mandala, and a memorial for a departed fellow warrior.
"Tempered" Don Stuber Stone, Steel and Wood 42" X 18" 8"
History
At some point, as a young marine infantryman, during or shortly after the battle for Hue City in 1968, inspired in part by a few crazed, balls out photojournalist, I thought about trading the site picture and cross hairs of my M-16 for that of aviewfinder through a battered and salty Nikon or Leica. Shortly after my discharge I enrolled, courtesy of the G. I. Bill, in the University of Minnesota, spending the next four years soaking up Studio Arts, Art History and South Asian Studies. I developed a passion for art and activism that continues, to today, to drive and inspire me.
Coping through Art
For many years after my military service, I buriedmy anger and memories away from war, warriors and the forces that sent us off on an endeavor, I felt driven by motives suspect and corrupt. Around 1995, 20 or so years after my service, I began to re-connect with fellow veterans and share stories, experiences, and the camaraderie that exist amongst those who have gone to war. I was fortunate enough to stumble into a group that, vet to vet, included art, literature, wilderness and contemplation, amongst other tools, as a means to help re-integrate into community.

In 2014, I returned to Vietnam with a group of veterans to revisit our battlefields. The trip also included excursion into the art, culture, history and people of Vietnam. I heard Eric Nguyen say, "Vietnam is not a war, it is a country with a culture and a history. The war is a chapter, not the only thing of interest and certainly not the end."

I am currently working on and exhibiting pieces from a long term multi-media project; "On War and Memory". Along with the realization that with out my time at war, I would not be who I am, this project helps me "cope" and "make sense" of my military service viathe exploration and sharing of my memories, in-sights, good times and bad and hearing response and feedback from others. I am not alone. We are not alone.
This piece is for sale directly from the artist Price $12,000.00