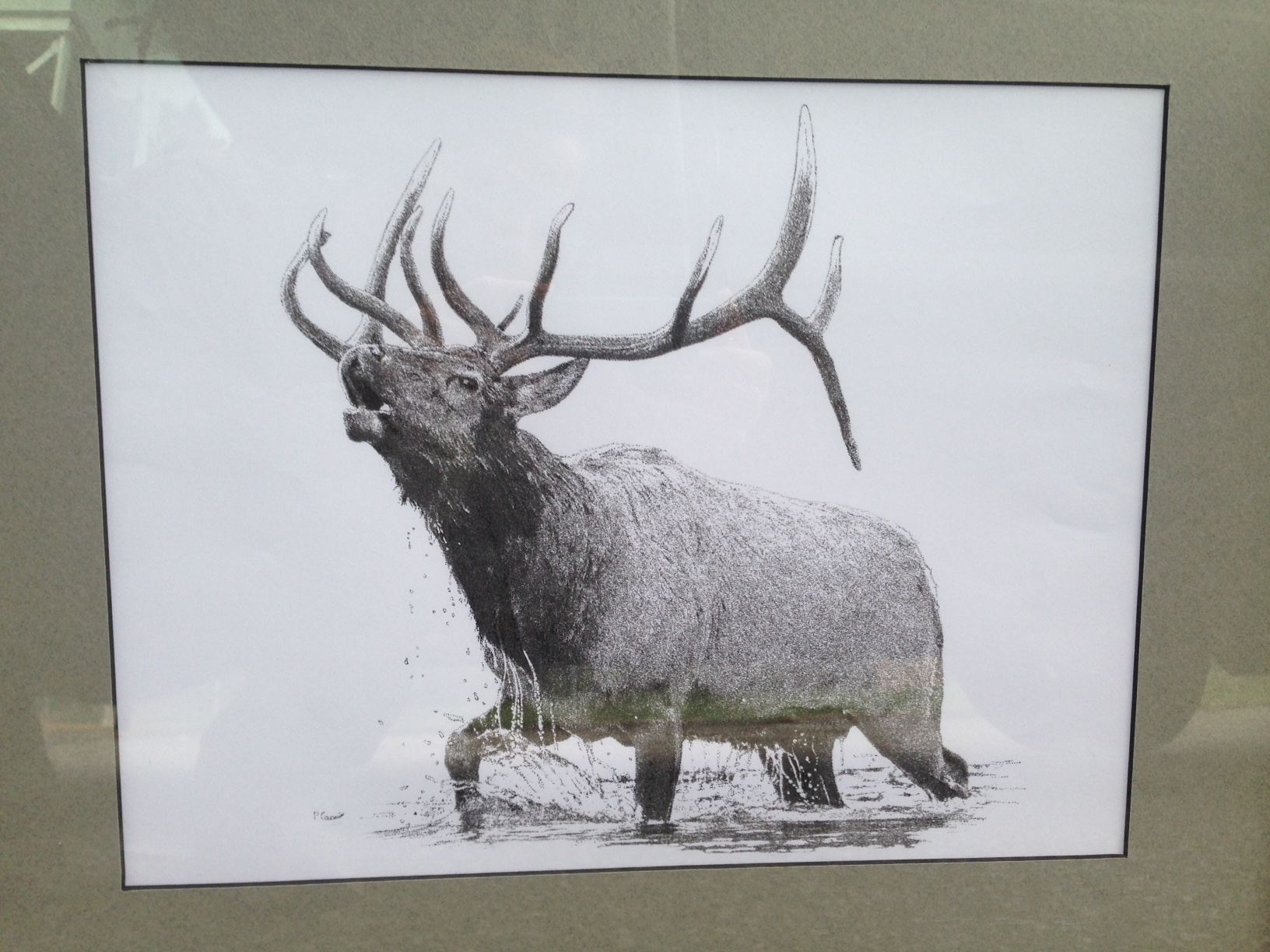 Pamela Corwin
Pointillism allows me to focus on what I'm doing, one dot at a time. It is a break from the normal line. I chose the elk bugling because I finally heard it when I was in Colorado a few years ago. It made my arm hairs stand on end. It was real.
History
My coming into art is not one that is normal. My name is Pamela Corwin, and I am actually a wildlife and fisheries biologist here in South Carolina. I did not go to school for art. I surely did not have time to take any art classes, except in high school. I was a double major in biology and anthropology and like a lot of college students, I felt as if I had to save the world. I wanted to make a difference. I wanted to find that niche I belonged to and provide that voice that actually mattered. But how? The answer to that question did not come until many years later.
After college, I joined the South Carolina Army National Guard and obtained my first real job as a biologist. Then to complicate things, I started attending graduate school. Art was the least of my worries and something that I thought was left in the past. I was studying our fine-feathered friends and witnessed the full capacity of what nature can offer to a studying soul. The Army, on the other hand, was quite a wild ride, so to speak. I had my fair share of Army life along with my battles (what we call our sisters and brothers in arms) but some of my battles had way more than their fair share. Some were coming back with PTSD; some were missing legs and arms. So I started volunteering at a veteran's shelter here in Charleston, S.C. After all of those years with no art in my life, I picked up some art supplies and started doing art with these veterans. I did not really draw or paint; I was just there for support. I was there to show them, and eventually myself, that art is a form of therapy that speaks without words.
After I graduated from graduate school, I started having a little free time and one day, out of the blue, I decided to paint a brown trout as a birthday card. I honestly did not think any skills would come back but as soon as I picked up that watercolor brush, it was there. Every brush stroke felt as if it had never left. Once the trout was finished, and I had given it to my husband, he showed it to someone at our headquarters and ideas started brewing. They were coming up with a program for anglers that catch trophy fish. This was called the Trophy Angler Program and the certificates were to have fish artwork painted by me. So I started painting fish. Then the S.C. Wildlife Magazine asked if I would start painting for them. Of course, who could say no? So I started painting for the magazine. Most of it was wildlife or related to the outdoors then one day, a light bulb came on. I finally knew the answer to my question I had in college. Not many artists truly experience wildlife and the outdoors as a biologist would. I knew the biology, the movements, the colors, and everything relating to our flora and fauna. So my second career as an artist began and my voice developed. I became a conservation artist, or in the biology community, the "artistic biologist".
When it comes to painting, I study everything I can about the subject (if it is not something I already study as a biologist). But why? Everyone can paint from a photo; but it takes an understanding of the subject to truly portray it on paper. One day, I was contacted by a fisherman that wanted me to paint the fish he had caught and released. He did not want the fish mounted; he wanted the fish in its natural environment. But he also wanted me to paint what cannot be seen: the emotions. He was asking me to paint everything that the fish reminded him of: it was the last fish he had caught with his son before his son was deployed overseas. So a new type of commission was started: I dubbed it the "catch, release, and paint" commission.
So with little training and just a natural ability to paint, I have created a world where I can get away from stress but still maintain a positive foothold. I donate a lot of original paintings and prints to various non-profit organizations to raise funds for conservation efforts. I strongly believe that every child should witness the wonders and splendor that nature has to offer. I do not want children and their children to see animals that were once wild; that once roamed our vast lands, only to be seen in zoos. Wendell Berry once said, "We can learn about it [conservation] from exceptional people of our own culture, and from other cultures less destructive than ours. I am speaking of the life of a man who knows that the world is not given by his fathers, but borrowed from his children; who has undertaken to cherish it and do it no damage, not because he is duty-bound, but because he loves the world and loves his children…"
With this said, my motive is not monetary gains; it is not fame and fortune; it is to help preserve something we all share for generations to come.
Coping through Art
Art, in the modern form, encompasses everything that is visual and conceptual. As more soldiers, and even civilians caught in the cross-fire of war, find that art can release those emotions...those feelings of anxiety produced by what only the few would understand. Art therapy has allowed me, as well as my battles, to show the world through our eyes; through that looking glass that haunts our every waking dream. Art has allowed me to focus on what I found was worth fighting for: the vast beauty that our country represents with wildlife and scenery. Painting and drawing what I love to watch in real life produces a serenity that we all seek. It allows me to express what I feel is important. Don't get me wrong, I also paint and draw military scenes that involve animals, providing a new perspective to military life.
This piece is for sale directly from the artist Price $1,000.00